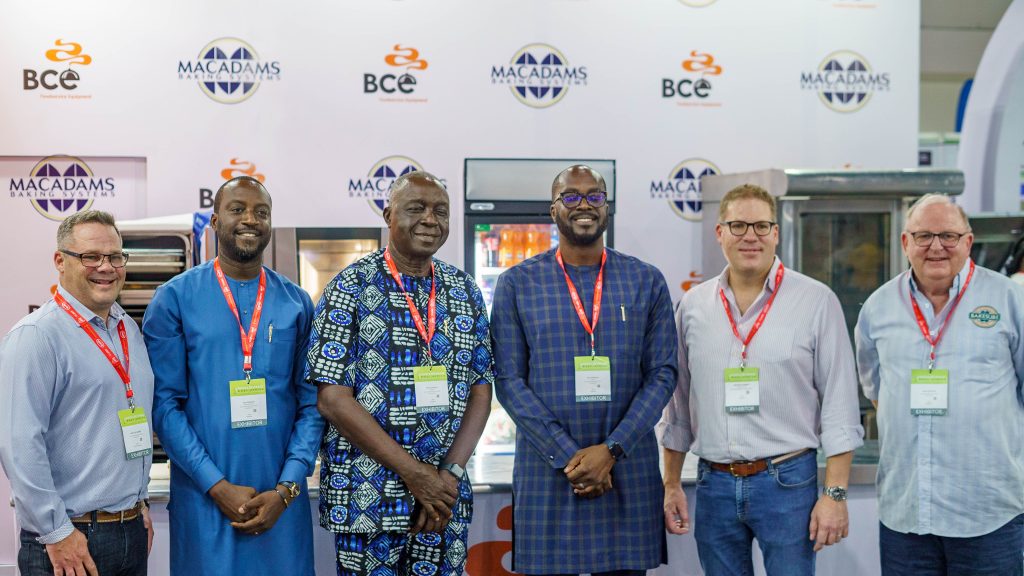 Posted by: admin-macs on August 22, 23 in Uncategorized
Macadams Baking Systems was the star of the show at the just concluded Food and Beverage West Africa Exhibition in Lagos, Nigeria. From June 13th to 15th, attendees were dazzled with an electrifying display of our innovation, cutting-edge technology, and irresistible baked delights.
Join us as we relive the excitement and highlights of Macadams' unforgettable journey at this extraordinary event!
Unleashing Baking Brilliance:
We took the exhibition by storm. The first point of call was our amazing booth. With the help of our talented team, we transformed an open space into a baking wonderland that captured the hearts and taste buds of everyone who ventured inside. The aroma of freshly baked goods wafted through the air, drawing crowds to our stand.
Our impressive lineup of baking equipment, adorned with sleek designs and the ever-vibrant Macadams colours, served as a testament to the company's commitment to delivering excellence in the world of baking.
Innovative Solutions That Ignited Excitement:
Creativity and innovation are what drive us as a brand. At the exhibition, we brought this to the forefront, introducing cutting-edge technologies and equipment that enhance productivity, efficiency, and precision. Attendees couldn't contain their excitement as they witnessed the impressive performance of Macadams' baking solutions, revolutionising the way baked goods are created and enjoyed.
Unforgettable Tastings and Samples:
What's a Macadams show without tasty treats? Our booth was a paradise for taste buds, offering delectable samples of freshly baked treats throughout the exhibition. From Chelsea buns to delightful cookies, visitors indulged in a symphony of flavours, courtesy of Macadams' superior baking expertise. The samples were an instant hit, leaving everyone craving for more.
A good time with Bakhita and Habeebah Cakes
Our winners from the Macadams Baking Grant were also present to grace the exhibition. It was a good time of fun, collaboration, and creativity when you have baking giants come together.
The three days of exhibition was nothing short of an amazing experience and we look forward to next year's show.